Pool Services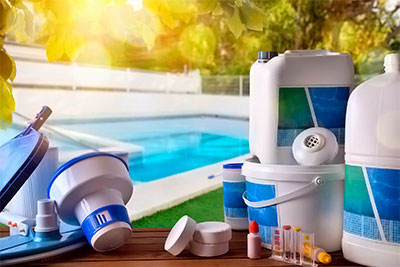 Your swimming pool and the poolscape areas can enhance the leisure factor of your yard. These features and spaces are perfect for relaxation, and you can have hours of fun with your family and friends. However, that can happen only when you plan these areas well, use good quality materials and products, and its features that have the right kind of design and styling. There are many different trends, design concepts, etc. that can be incorporated in the spaces. It's a good idea to hire experienced swimming pool remodeling contractors like us for your project.

We at Houston Pools & Spas are a front-running company in the field and over the years have handled a wide range of pool services on properties in and around Houston. As a full-service swimming pool renovation and remodeling company, we can manage every aspect of your job. Whether you want to add a new deck to your poolscape or install attractive coping, we can help. We offer comprehensive solutions, which means you get all the services you need under a single roof. No matter your specific requirement, we are here to help with custom solutions that are in line with your budget.


Pool Builder
When it comes to outdoor living, getting a swimming pool installed is probably one of the best features to consider. Today, many residential properties across the region have pools in their yards. The pool itself and the areas around it become a leisure zone where you can spend fun moments with your family and friends. For more information about Pool Builder »


Pool Services
As a full-service pool remodeling company, we handle all types of pool services, including swimming pool tiling, pool replastering, pool coping installations, and pool remodeling. Also, we offer a variety of solutions, such as pool equipment installation and repairs. For example, if you need heaters, cleaners, filters, pool pumps, or pool liners, we are the company that can help you with all these services. Our team is highly knowledgeable. They will provide you with all the information you require about the different products and systems available on the market so you can determine which installations you want. For more information about Pool Services »


Pool Repair
Swimming pools and all the related equipment and installations are subjected continuously to climatic changes, exposure to the elements, and regular wear and tear. Soon you find that various features start looking old or need repairs. For any kind of pool repair services, it is necessary to hire experienced operators like us. We have the skills, techniques, knowledge, and expertise to tackle these jobs to industry standards. Whether you want us to repair damaged pool tiling or spa equipment, we can help. Our team of experts has extensive experience in handling these jobs. When you entrust your pool repair requirements to us, you can be sure we will tackle the project skillfully. For more information about Pool Repair »


Pool Remodels
When you get a swimming pool installed, you always make every effort to use the right quality materials and high-quality products. It is one of the best ways to ensure that your swimming pool and the surrounding spaces stay in good condition for a long time. However, since the feature is constantly exposed to the elements, it can suffer deterioration over time. If you feel that you need a change in the poolscape's styling or the feature itself, we can help with pool remodels. We can handle start to end pool remodels, which include a complete revamp of the structure. However, if you want us to add certain elements such as tanning ledges, multi-level decks, or even a grotto, water features, etc. we can help. For more information about Pool Remodels »


Pool Inspection
If you are considering investing in a home with a swimming pool in the outdoor spaces, you would need pool inspection services. Just as you get the house inspected, it is also necessary to get a pool inspection done. A detailed assessment of this feature and the poolscape is crucial as these areas are constantly exposed to the outdoor weather. It also means that many of the elements can become deteriorated or damaged very quickly. Trying to fix these problems after you have purchased the property can prove to be very heavy on the pocket. The best way to avoid this problem is to hire us for pool inspections. We will provide you a detailed report about the pool's condition, helping you make a better-informed purchase decision. For more information about Pool Inspections »


Pool Tile & Grout Cleaning
Many property owners notice that their swimming pools' tiles become stained and dirty at the waterline. These stains mar the appearance of the tiling and the grout. Also, if you do not get the tiles cleaned on time, it can affect the tiling's quality and condition. We use high quality, non-toxic, yet effective tile cleaning products in our work. Our team of experts will clean all the grout and tiling thoroughly. Once we have finished with the cleaning, we will also apply a protective coating or sealant on the tiles. This coating helps prevent the buildup of sedimentation and stains, and it keeps your tiles looking as good as a new for many years to come. For more information about Pool Tile & Grout Cleaning »


In-floor Systems
People who have swimming pools on their property always like to ensure that the water and the pool itself are clean. While hiring professionals for pool maintenance is a good option, you can also get in-floor pool cleaning systems for the feature. It is a great way to maintain your pools' cleanliness without having to use big hoses and other types of bulky cleaning equipment. Today there is a wide variety of in-floor systems that can be installed in your outdoor pool. Our team will provide detailed information about these products and handle the installation of these systems to industry standards. We are here to help with every aspect of in-floor system selection and installation. For more Information about In-Floor Systems »


Pool Remodeling
When it comes to swimming pool remodeling solutions, we provide start-to-end solutions. Some clients like the idea of getting an entire pool remodel done. However, others prefer to add a few elements, without revamping the area. Regardless of what your requirement is, we are here to cater to your specific needs. Our team has extensive knowledge of various types of materials and products available on the market. We use our creativity and skill and work with you to provide information about the kinds of styles and designs that we can incorporate in various new elements and structures in your poolscape. Our company uses the best quality materials and techniques, so the pool remodel project will enhance the feature's functionality, safety, and value. For more information about Pool Remodeling »


Pool Replastering
If you have a plastered swimming pool, you know that these surfaces will deteriorate over the years. Even with excellent maintenance, some wear and tear happen from regular use and exposure to the elements. If you notice any damage or deterioration in your pool's plaster, give us a call. We provide high quality customized swimming pool replastering services. Our team works diligently and gives you information about the different types of plastering products and finishes. We make sure that your swimming pool plaster is perfect in every way and enhances the aesthetics of your pool and its surrounding spaces. For more information about Pool Replastering »


Deck Coatings
The swimming pool deck has a significant role to play in the overall functionality of your poolscape. You need to choose the materials with care and make sure that your deck's installation is done correctly. Also, it is necessary to make sure that the deck surfaces are non-slip and safe to use. Depending on your specific requirements, we can provide a wide variety of deck coatings to improve your deck's appearance, functionality, safety, and durability. For example, we can install travertine pavers, pea gravel, stamped concrete, or even crushed concrete. Deck coatings add strength and uplift the look of your poolscape. For more information about Deck Coatings »


Pool Plastering
Our company provides high-quality pool plastering services. Whether you need a new pool plastered or an existing one replastered, we can help. As a company that has been in this industry for numerous years, we know precisely how to handle a wide variety of plastering projects. There are many different materials available on the market, and we will provide you with details of these plastering products. Our technicians are highly skilled and will install the plaster in line with industry standards. You will have durable surfaces that are safe and seamless for easy maintenance. You can rest assured that your swimming pool plaster will last for many years without any trouble. For more information about Pool Plastering »


Pool Coping
Coping is a crucial aspect of any swimming pool structure. It improves the safety of your pool, enhancing its aesthetic. Your pool coping stones also create a very beautifully finished look in the poolscape. There is a wide variety of products that you can choose from, including modular coping stones or ones that have been precast in straight lengths, corners, and curved sections. You can also choose from natural stone coping or brick coping to match the surfaces in your poolscape. When we handle pool coping installation for you, you can be sure we will use high-quality products and complete the installation to the highest quality standards. For more information about Pool Coping »


Pool Equipment
No matter how small or big your swimming pool is, you would need some equipment for various purposes, and it must be of the best quality if you want it to function well, without any glitches for many years. We provide a wide variety of pool equipment, including chlorine generators, pool liners, pool pumps, cleaners, filters, pool pumps heaters, etc. No matter what your pool equipment needs are, we are here to help. We provide these fixtures as per your requirements and install them in line with the manufacturer's specifications. Since we customize our solutions, you can be sure that your pool equipment will be top-of-the-line and will provide years of service. For more information about Pool Equipment »


Spa Additions
Installing a spa in your poolscape is a great way to uplift the functionality, appeal, and value of your property. It is a luxurious addition to your yard and allows you to relax in your home's outdoor areas. However, just like your pool, the spa is also exposed to the elements making it necessary to use suitable quality materials in the installation. There is a wide variety of spa products available on the market. When we add this feature to an existing property, we take care to ensure that the spa's styling and design complement the look of your swimming pool, creating a seamless and cohesive aesthetic. For more information about Spa Additions »

As you can see, we handle a broad range of swimming pool remodeling, renovation, and spa addition projects. We are the one-stop-shop for all your swimming remodeling requirements. You can trust us to provide you with unique, appealing, top-notch solutions at prices that perfectly fit your budget. We are reliable and customize our services so that you get good value for the money spent.

If you need any more information about our pool repair services, please call Houston Pools & Spas at this number 832-554-7665. You can also send us your requests and queries through this online form, and one of our expert team members will contact you shortly to discuss your project's details and get your project started.
We Provide Services to the Following Cities, Towns and Surrounding Regions of TX: